On Friday, June 6, New York Oncology Hematology broke ground on a new Clifton Park Cancer Center.
Located at 3 Crossing Boulevard (at the corner of Sitterly Drive), the 28,000 square foot facility will be the largest cancer treatment center in Saratoga County when it opens in the spring of 2015.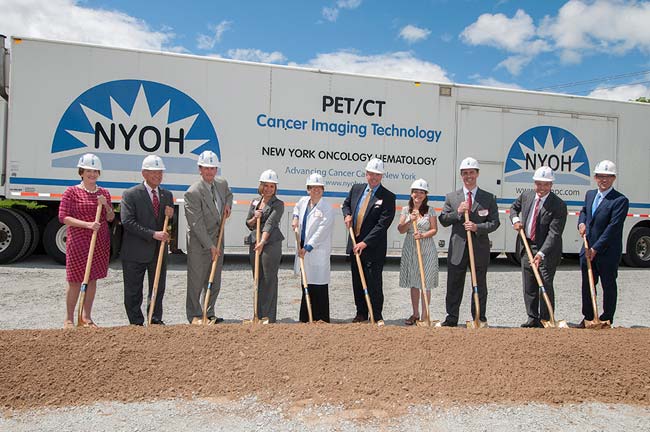 The $20 million project will include the latest in radiation technology:
Varian TRUE BEAM linear accelerator
Mobile PET pad
GE lightspeed CT simulator
Together, this technology can more precisely define the size, shape, location and treatment of tumors in real time.
In honor of National Cancer Survivor Month in June, one of the featured speakers at the ground breaking ceremony was Lisa Morahan, a five year breast cancer survivor, NYOH patient and participant in a current clinical research trial.
Morahan shared her experience at NYOH, including the "second family" of physicians, nurses and staff that helped her through her treatment. As a result of her experience, Morahan founded Floydwarriors, a volunteer organization that assists local families going through cancer treatment.
Morahan was introduced by her oncologist, Nini Wu, MD, President of New York Oncology Hematology. Wu spoke about the decision to open a comprehensive cancer center in Clifton Park as the latest step in NYOH's 30 year history of serving its patients and the value of NYOH's partnership with The US Oncology Network.
A private, physician-owned practice, New York Oncology Hematology is an affiliate of The US Oncology Network, one of the nation's largest networks of integrated, community-based oncology practices dedicated to advancing high-quality, evidence-based cancer care. As an affiliate of The US Oncology Network, NYOH is united with nearly 1,000 physicians nationwide and participates in clinical trials through The US Oncology Network Research. Over the past 20 years, NYOH and its patients have played a role in FDA approval of 38 cancer therapies.
Other US Representative Paul Tonko, Phil Barrett, Town of Clifton Park Supervisor; Ella Friedman, Senior Vice President, The US Oncology Network; Joe Nicolla, President of Columbia Development Companies; Frank Isele, Executive Director at NYOH and Edwin Graham, Regional Senior Vice President for The US Oncology Network.
Over the past three decades, New York Oncology Hematology has been committed to bringing the very best cancer treatment and care available right into Capital Region communities. NYOH currently treats patients at practices in Hudson, Albany, Latham, Troy, Rexford and Amsterdam. With the opening of the Clifton Park Cancer Center, NYOH's Latham practice, located at 1003 Loudon Road, will move to the new facility, about ten minutes away.
Columbia Development Companies is the developer of the NYOH Clifton Park Cancer Center and BBL Medical Facilities is the design/builder. The NYOH Clifton Park Cancer Center is slated to open in spring of 2015.
Media coverage of the ground breaking for NYOH's Clifton Park Cancer Center includes: