New York Oncology Hematology cares for more breast cancer patients than any other provider in the region. In October, breast cancer awareness month, we celebrate survivors while joining forces with those raising money and awareness to help those with breast cancer and work toward a cure. Join us!
---
Tri-County Close-up, WENT 1340AM, Gloversville
Thursday, October 5, 2017​
12:20pm and 5:20pm
Dr. Arsyl De Jesus, radiation oncologist at NYOH's Amsterdam office, and her patient, Cathy Waite, will be talking with WENT's Tom Roehl about Cathy's breast cancer treatment at NYOH and the services available to patients in the Fulton-Montgomery county area.
---
2017 Northeastern NY Komen Race for the Cure, Albany NY
Saturday, October 7, 2017
9:30a.m.
This annual 5K road race and 2K Family Fun Walk kicks off at Empire State Plaza. NYOH is proud to be a supporter. Learn more or register.
---
WAMC Medical Monday - 90.3FM/wamc.org
Monday, October 9, 2017
2:00p.m. - 3:00p.m.
Dr. Karen Tedesco, a medical oncologist and hematologist at NYOH, will be discussing breast cancer, including new treatments and clinical trials on this weekly radio call-in program. Get your questions answered and learn more about advancements in breast cancer treatment, including a new clinical trial being offered at NYOH for eligible breast cancer patients.
---
2017 Making Strides Against Breast Cancer Walk, Albany
Saturday, October 14, 2017
10:00a.m.
Join the NYOH Cares team for this annual walk, starting at Washington Park, in Albany. NYOH is a sponsor of this event and will have a survivor tent and wonderful raffle baskets prepared by each of our departments. From a fire pit to a day at the spa, buy a ticket and help us raise money for the American Cancer Society. Registration starts at 10:00am; Walk begins at 12:00pm. Join us to walk or support our team.
---
Friday, October 20, 2017, Saratoga Hall of Springs
2017 To Life! Pink Ball
6:30p.m.
To Life! is a breast cancer support and education organization, based in Delmar, NY. This year, To Life! is honoring Rufus Collea, MD, Medical Director at NYOH with its "Community Advocate Award." Dr. Collea focuses exclusively on the treatment of breast cancer. He also serves as Chief Medical Officer of the American Cancer Society in the Capital Region. Since 2005, To Life! has held the Pink Ball to benefit women and families in our community affected by breast cancer with special recognition for outstanding service. Learn more or purchase tickets.
---
Ruby & Quiry's 3rd Annual Build a Bag Fundraiser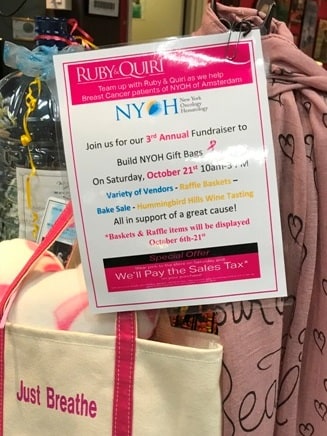 Saturday, October 21, 2017
10:00a.m. - 3:00p.m.
Come to Ruby & Quiry in Johnstown for a bake sale, wine tasting, vendors and raffle baskets! After NYOH breast cancer survivor and Ruby & Quiry owner Amy Karas finished treatment, she wanted to give back. So, she has been filling fun gift bags for NYOH patients in Fulton and Montgomery counties, to use during treatment. From socks to hand lotion, help her raise money to continue building these special bags all year long!
---
Hudson Valley Magazine Online
October, 2017
Dr. Maria Theodoulou, an internationally recognized breast cancer expert, is now seeing patients in both Albany and Hudson. She talks about new programs she is starting, for breast cancer patients, at NYOH's Hudson office.