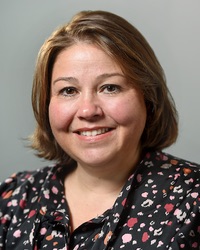 Heidi E. Godoy, D.O., joined New York Oncology Hematology (NYOH) on December 1, 2021, expanding our service line offerings at our Albany Cancer Center to include gynecologic oncology and surgery. Dr. Godoy specializes in medically and surgically treating cancers of female reproductive organs, including ovarian, endometrial, and cervical cancers.
"Dr. Godoy joining our practice allows us to increase access to care to our patients and the Capital Region community. Her surgical experience and specialization in this area of oncology will give us additional insight into the latest treatments, technologies, therapies, and precision medicine for our female patients with gynecologic cancers. We look forward to growing and expanding this service line under her leadership," said Todd Doyle, MD, NYOH radiation oncologist and practice president.
NYOH anticipates expanding gynecologic oncology and surgery to our Hudson Cancer Center in early 2022.
Dr. Godoy is board-certified in obstetrics and gynecology, gynecology oncology and robotics. She completed her fellowship at Roswell Park Cancer Institute in gynecologic oncology. Prior to NYOH, she spent the past nine years at Women's Cancer Care Associates as a gynecologic oncologist and surgeon. She is a member of several professional associations, including the American College of Obstetricians and Gynecologists and the Society of Gynecologic Oncologists.
Dr. Godoy is currently accepting new patients and transfers and will practice out of our Albany Cancer Center in suite 211. To schedule an appointment, call (518) 801-0725.
Learn more about our Gynecologic Oncology Service Line
Learn more about Gynecologic Cancers