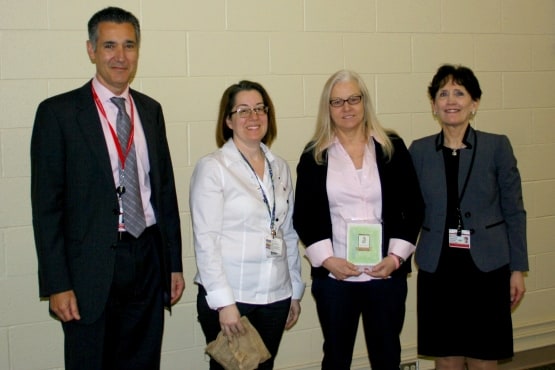 NYOH is proud to announce that Stephanie Spear, PA, a rounding hospitalist for NYOH, who sees patients at St. Peter's Hospital, was recognized with the Josie King Hero Award for her role in preventing an NYOH patient at the hospital from receiving the wrong medication.
In presenting the award, Dr. Steven D. Hanks, M.D., Chief Medical Officer, St. Peter's Health Partners, thanked Stephanie for her sharp clinical skills, instincts and patient focused dedication, preventing a potentially dangerous error. Stephanie has been part of the NYOH team for four years and we applaud her dedication to providing our patients with the highest quality care. Well done!
From left, Dr. Hanks; Jennifer Ryan, Director of Risk Services and Acute Care, St. Peter's Health Partners; Stephanie; Virginia Golden, CEO, St. Peter's and Memorial Hospital.