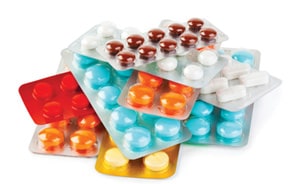 Now, you don't have to make a separate trip to the pharmacy for your prescriptions. For your convenience, and often at a lower cost, NYOH can fill many prescriptions at our office locations: Albany, Albany Medical Center, Latham, Troy, Rexford, Amsterdam, Hudson and soon, in Clifton Park. That means they are available at the time of your visit.
Prescriptions are filled by NYOH pharmacists, board-certified with specialized training in cancer treatment. They focus exclusively on NYOH patients and work closely with your physician on your individualized treatment regimen.
In addition to added convenience, it often costs less to use our dispensary. Because retail pharmacies often require immediate payment, they may not verify all of your coverage options. Our team works with you to investigate Medicare, supplemental plans, co-payment assistance programs and other options to ensure you are getting the maximum drug benefits available.
To learn more, ask your physician or nurse about in-office dispensing or call your NYOH practice today.