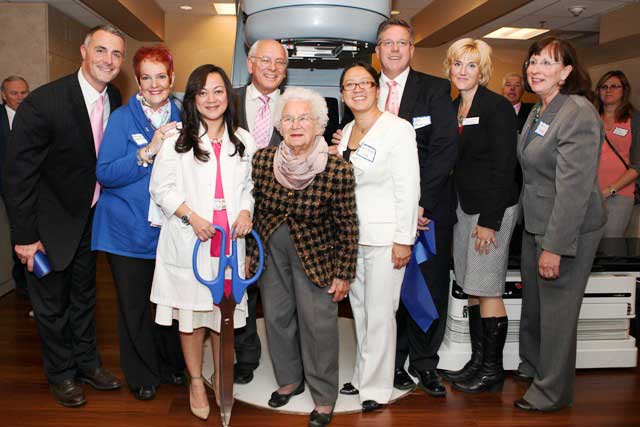 Mrs. Frances Tonko, mother of U.S. Representative Paul Tonko and an NYOH patient and cancer survivor, recently joined her physician, Arsyl De Jesus. MD, at the Amsterdam Cancer Center. Together, they cut the ribbon to re-open the newly renovated NYOH Amsterdam Cancer Center.
As the only provider of radiation oncology services in the Fulton Montgomery County region, NYOH recently completed a $3 million renovation of its Riverfront Center location. The latest in radiation technology includes a new Varian linear accelerator that better pinpoints tumors, to spare more healthy tissue and reduce side effects during treatment.
At the ceremony, U.S. Representative Paul Tonko spoke about his mother's confidence in her care at NYOH. Amy Karas, co-owner of Ruby & Quiry, a breast cancer survivor and also a patient of Dr. De Jesus, talked about the "NYOH family" that she is still part of today, five years after treatment. Amsterdam Mayor Ann Thane was also part of the celebration, which included a demonstration of the new equipment.