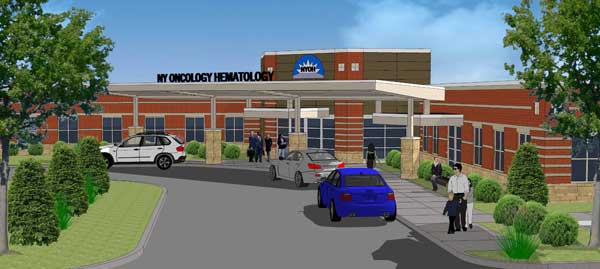 New York Oncology Hematology Announces Plans for New Cancer Center in Clifton Park
Sitterly Road location will be the largest comprehensive community cancer center in Southern Saratoga County
ALBANY, NY – In its continued commitment to patients and the community, New York Oncology Hematology, the region's largest cancer care provider, is planning major construction of a new, state-of-the-art Clifton Park Cancer Center, at the corner of Crossing Boulevard and Sitterly Road.
NYOH's first facility in Clifton Park will be the largest comprehensive cancer center in Southern Saratoga County. Construction of the 28,000 square foot center, on the approximately four acre site, is expected to begin this spring, with completion about a year later.
"For more than 30 years, New York Oncology Hematology has been bringing world class cancer care to our local communities," said Nini Wu, MD, President of New York Oncology Hematology. "In response to our existing patients as well as expected population growth, we recognized the need for a comprehensive cancer care in Clifton Park and are pleased to make our physicians, drug trials, and genetic expertise more convenient for residents of Southern Saratoga County."
The Clifton Park Cancer Center will provide both radiation oncology and medical oncology, including some of the most advanced cancer radiation therapy available. This includes a Varian TRUE BEAM linear accelerator, mobile PET pad and GE lightspeed CT simulator. This technology works together to more precisely define the size, shape, location and treatment of tumors in real time.
"Time is so valuable when you are going though cancer," said Todd Doyle, MD, Chief of Radiation Oncology at NYOH. "Our patients don't want to spend it driving to appointments. The philosophy in Clifton Park and at all of our NYOH locations is to help patients maintain family and work routines while going through treatment."
With a team of 36 physicians and more than 300 oncology professionals, New York Oncology Hematology is the region's largest cancer care provider.
In Clifton Park, construction and equipment costs will exceed $20 million. The new center represents the latest in a series of major investments the practice is making, including:
A $3 million renovation and upgrade of the entire radiation oncology line, currently underway at its Amsterdam Cancer Center
A $2 million addition of Stereotactic Radiosurgery (SRS) and Stereotactic Body Radiosurgery (SBRT) at its Albany Cancer Center. These highly targeted radiation treatments are designed to destroy small tumors in the brain in other areas of the body without the need for surgery. SRS and SBRT will also be available at NYOH's Clifton Park Cancer Center.
"For the past three decades, New York Oncology Hematology has expanded its footprint to meet the needs of patients in the Capital Region," said U.S. Representative Paul Tonko. "The new Clifton Park Cancer Center is a significant investment – not just in terms of economic development – but in the quality of our health care system. We applaud NYOH for bringing world-class cancer care to New York State's fastest growing county."
In addition to treatment, New York Oncology Hematology also manages the region's largest, most comprehensive clinical and research trial operation. Through its affiliation with the US Oncology Network, Dana Farber Cancer Institute and participation in National Cancer Institute projects, NYOH offers dozens of drug and research trial options for a variety of cancers.
"Over the past 20 years, NYOH has played a pivotal role in FDA approval of 24 new anticancer drugs," said Lawrence Garbo, MD, director of research at NYOH. "The Clifton Park Cancer Center will better connect us to the Saratoga County population, so more patients can participate in and benefit from our trials, as well as services such as genetic testing."
NYOH is an independent, physician-owned practice currently operating seven offices, including two in Albany (Patroon Creek and Albany Medical Center), Amsterdam, Troy, Rexford, Hudson and Latham. With the opening of the Clifton Park Cancer Center in 2015, NYOH will relocate its Latham practice, at 1003 Loudon Road, to the much larger Clifton Park facility, about 10 minutes away, off Route 9. Additional hiring is also planned.
"The Clifton Park Cancer Center is being designed for the future," explains Dr. Wu. "It will satisfy the community's current cancer treatment needs, while giving us the capacity to meet future needs, as advances in healthcare and cancer treatment come on the scene."
Columbia Development is the developer for the NYOH project and BBL Construction Services is the design/builder.