For Immediate Release: January 21, 2014
Contact: Sarah Bilofsky (518-588-7562)
First of its Kind in Area State of the Art New Linear Accelerator Technology Will Advance Radiation Cancer Treatment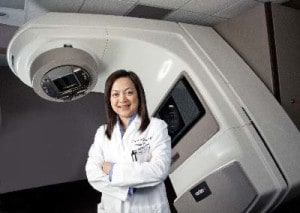 AMSTERDAM, NY – In its continued commitment to patients and the community, New York Oncology Hematology, the region's largest provider of community-based cancer care, is making a more than $3 million investment in its Amsterdam Cancer Center, at 1700 Riverfront Center.
As the only provider of cancer radiation services in Amsterdam, NYOH is fully replacing its radiation technology service line. The new equipment, a Varian iX linear accelerator (linac) and General Electric CT Simulator, will provide the most advanced cancer radiation therapy available in the region.
"Investing in this new technology will allow us to continue providing patients with the best radiation treatments available," explains Arsyl De Jesus, MD, Radiation Oncologist at NYOH's Amsterdam office. "With built in x-ray and CT imaging systems, the linac will allow us to better target cancer in real-time."
In addition to the linac, NYOH's investment includes a General Electric Lightspeed CT Simulator. Used for radiation treatment planning, the CT uses special imaging techniques to scan more quickly, while more precisely defining the size, shape and location of tumors. Office renovations are also planned to accommodate the new technology.
"As the sole provider of radiation services in Amsterdam and the surrounding community, New York Oncology Hematology's investment in new technology ensures we will continue to fulfill the entire need of the community, while making state of the art treatment available to an even broader geographical region," said Nini Wu, MD, President, New York Oncology Hematology. "Further, it enables us to meet future treatment needs as they arise. We are proud of the latest step in our 30 year mission of bringing world-class cancer care to Amsterdam, the Capital Region and surrounding communities."
Dr. De Jesus expects the new equipment to increase patients at the Amsterdam Cancer Center because it will allow them to stay closer to home for certain treatments. She says NYOH's lower treatment costs for both patient and insurer – compared to hospital-based care – along with the comprehensive range of medical oncology and the existing PET/CT imaging, will support the expected increase in patient services.
New York Oncology Hematology (then Albany Regional Cancer) first opened in Amsterdam in 1986, moving to its current location at Riverfront Center in 1999.
"Thanks to New York Oncology Hematology's investment it its Amsterdam Cancer Center, more families will have convenient access to state of the art cancer treatment right in our own community," said U.S. Representative Paul Tonko, an Amsterdam native. "In addition to their major investment, we also recognize NYOH as a vital catalyst, spurring economic development through its planned improvements to Riverfront Center."
Radiation renovations will begin in March and are expected to finish in June. In the interim, radiation patients will continue to be served at NYOH offices in Rexford and at Patroon Creek in Albany, according to Wu.
Robert H. Goslin, MD, Medical Oncologist at NYOH's Amsterdam Cancer Center, says he and other physicians in the practice, which include Karen Lynn Tedesco, MD, and M. Siddique Tai, MD, will continue to see new and existing medical oncology patients in the Amsterdam office and along with Dr. De Jesus, will be reaching out to referring physicians – doctors who send patients to NYOH for cancer treatment – to explain the capabilities of the new radiation equipment.
"We believe in a team approach to cancer care, so it is crucial that our partner physicians fully understand how this new technology can help the patients we serve," said Goslin. "Our goal continues to be delivering the highest quality and most affordable care with the greatest convenience to our patients."
♦ ♦ ♦
ABOUT NEW YORK ONCOLOGY HEMATOLOGY
New York Oncology Hematology is the region's leading provider of community-based cancer care and services. With seven convenient locations, a team of 36 physicians and more than 300 oncology professionals, NYOH has been delivering world class cancer care to the Capital Region and surrounding communities for more than 30 years.
Through our affiliation with The US Oncology Network, one of the nation's largest cancer treatment and research networks, NYOH offers the latest breakthroughs, treatments and technologies – right here at home.