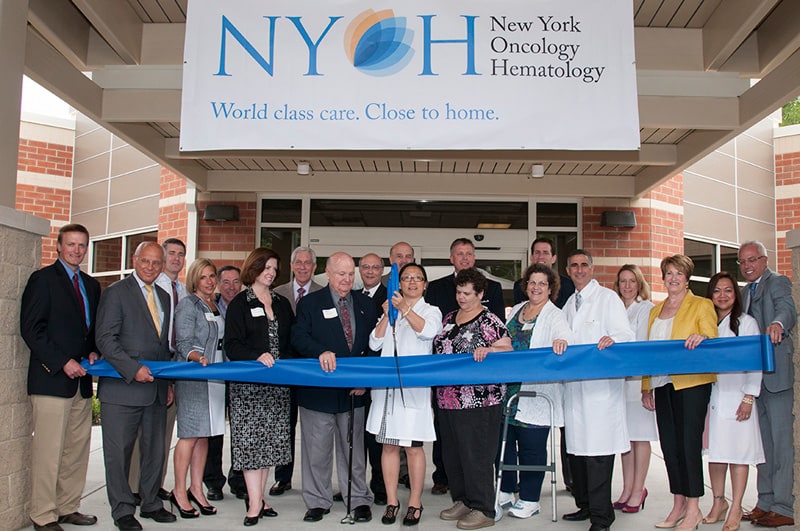 New York Oncology Hematology, the region's largest provider of cancer and blood disorder treatment, celebrated the opening of its new Clifton Park Cancer Center with a ribbon cutting ceremony.
Located at 3 Crossing Blvd. (at Sitterly Rd.), the new center it is the largest and most comprehensive in the area. It includes the region's first Varian TrueBeam Radiotherapy System, offering the most advanced radiation treatment available. The Varian TrueBeam provides pinpoint precision for reduced side effects – even in tough to treat cancers, including breast, neck, head, and abdomen. The next closest Varian Truebeam is located in New York City.
"For more than 30 years, New York Oncology Hematology has been a pioneer in delivering world class treatment, close to home, in a community-based setting," said Nini Wu, MD, President, New York Oncology Hematology. "We are pleased to bring the region's first Varian TrueBeam to our Clifton Park location and the full range of NYOH services and treatment options to patients in Saratoga County."
Services at the brand new New York Oncology Hematology Clifton Park Cancer Center include:
Medical Oncology, Hematology, and Radiation Oncology
Varian TrueBeam Radiotherapy
30-person chemotherapy infusion suite
PET and CT imaging
In office dispensing of cancer drugs
Access to national clinical research trials
Hereditary risk assessment
Convenient radiation entrance: the practice was designed with a separate radiation entrance, making it easier for patients with a daily treatment regimen to get in and out of treatment quickly.
Free parking and front-door drop off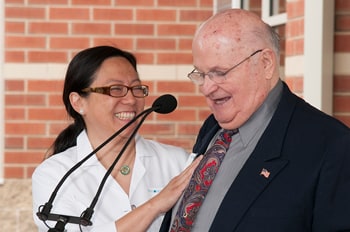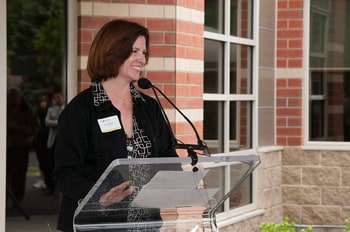 NYOH welcomed several patients to share their stories as part of the ribbon cutting event. These include Jeanne McDonald and Nancy O'Connor, sisters and breast cancer survivors; Erin Davison, a two-time breast cancer survivor and Tom Corrigan, who was first diagnosed with chronic lymphocytic leukemia 15 years ago. All of the patients are now seeing their physicians at the new Clifton Park location.
NYOH physicians, Rufus Collea, MD and Justin Juliano, MD, also spoke at the event. Both live in Clifton Park and practice at the new NYOH location. Dr. Collea is Medical Director of NYOH and focuses on the treatment of breast cancer. Dr. Juliano, a graduate of Shenendehowa High School, recently returned to the area with his family, to join NYOH in Clifton Park, having worked at the Cleveland Clinic and Penn State Hershey Medical Center. He is a radiation oncologist.
Additional guests included: Hon. Paul Tonko, U.S. Representative; Hon. Phil Barrett, Clifton Park Supervisor; Joe Nicolla, President, Columbia Development Companies; Kirk Kaminsky, President, The US Oncology Network and McKession Specialty Health; Ella Friedman, Sr. Vice President, The US Oncology Network Operations and Edwin Graham, Regional Sr. Vice President, The US Oncology Network.
Clifton Park marks NYOH's seventh location. Other practices include Albany, Albany Medical Center, Amsterdam, Hudson, Rexford and Troy. Collectively, NYOH physicians see more than 100,000 cancer visits annually.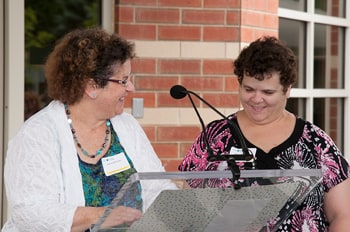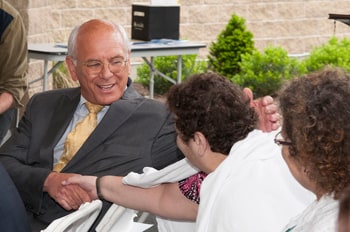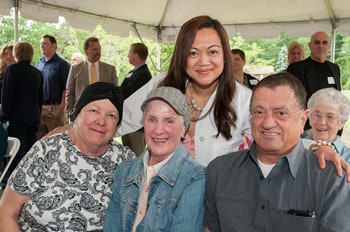 Media Coverage:
News 10: New cancer center opens in Clifton Park
Saratogian Health: New York Oncology Hematology's new office brings 'world class care close to home'
Times Union: Photos: Clifton Park Cancer Center opens