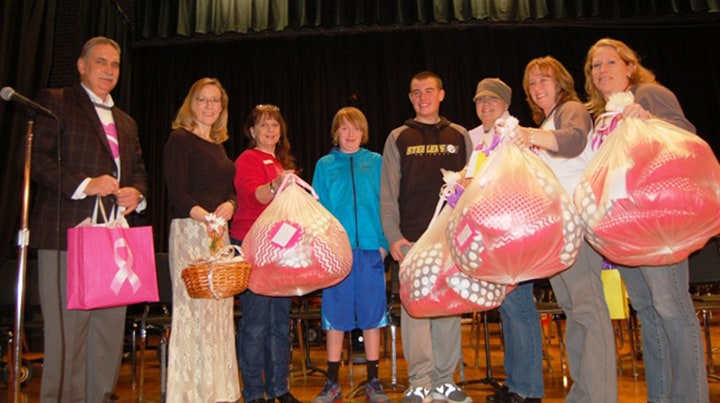 When Becky Hart, a teacher at Knox Jr. High School in Johnstown, NY, was diagnosed with breast cancer earlier this year, her students wanted to do something to support their teacher during treatment.
They sold pink bracelets and magnets. The bracelets read "GJSD Strong" for Greater Johnstown School District. Student lockers were decorated with pink magnets that said "GJSD Has Hart." Pink T-shirts with slogans were also sold throughout the district. In honor of breast cancer awareness month and teachers who are cancer survivors, the modified boys football team held a "pinkout" game, with each player wearing bright pink socks.
Students in life sciences also sewed almost 50 heart-shaped pillows and wrote encouraging notes, to be shared with NYOH patients.
Students raised more than $500. Hart asked them to donate the money, in the form of gas and grocery gift cards, to New York Oncology Hematology. She said that during her chemotheraphy treatments at NYOH's Riverfront Center office, she saw many patients in need.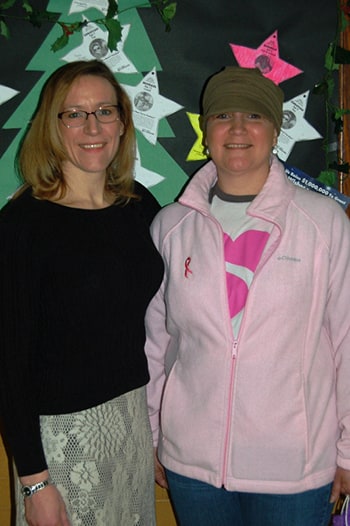 On Wednesday, December 23rd, during a holiday assembly, the students presented their donations to NYOH's Dr. Karen Tedesco, Becky Hart's physician and Karen Diamond, practice manager at NYOH Amsterdam. Hart was part of the ceremony.
NYOH extends its deepest thanks to the students, teachers, parents and Johnstown community for their support and generosity in helping NYOH patients in Fulton and Montgomery counties.
To learn more or to make a donation to the NYOH Community Cancer Foundation, which provides financial assistance to local cancer patients, visit: http://newyorkoncology.com/treatments-programs/supportive-care/nyoh-community-cancer-foundation or call us at: 518-373-3800.
Read more: