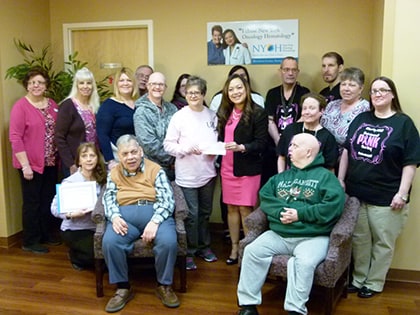 Clients of Liberty ARC recently held a "Pink Sale," selling t-shirts and other pink breast cancer awareness items to raise money for the NYOH Community Cancer Foundation to help patients at NYOH's Amsterdam location.
Clients and staff of Liberty ARC recently visited NYOH/Amsterdam to present a check for more than $1,000. Physicians and staff at NYOH were on hand to thank the Liberty ARC team for their hard work. The funds raised will be used to provide gas and grocery cards as well as other emergency financial support for patients undergoing cancer treatment.
This is the second year that Liberty ARC has held the "Pink Sale." Participating locations included:
Riverfront Dayhab, Amsterdam
Inman Center Dayhab, Amsterdam
Church Street Dayhab, Canajoharie
Mohawk Street Dayhab, Canajoharie
The NYOH Communtiy Cancer Foundation is a not-for-profit, founded by the physicians and staff of New York Oncology Hematology in 2000. Learn more or make a donation.