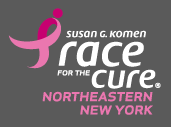 New York Oncology Hematology will again be sponsoring a water station at this year's Susan G Komen Race for the Cure, Saturday, October 3, 2015 at Empire State Plaza in Albany.
Volunteers are needed to help hand out water and cheer on runners and walkers! Join the NYOH team, as we honor all breast cancer patients and celebrate survivors. Contact Deborah Dzingle at: deborah.dzingle@usoncology.com or 518-489-3612 x1202, to join us October 3rd.
To participate in the Race for the Cure, visit the Susan G. Komen website.