NYOH has made office changes due to COVID-19 and the completed office renovations. Please use the map for specific directions on parking and entrances.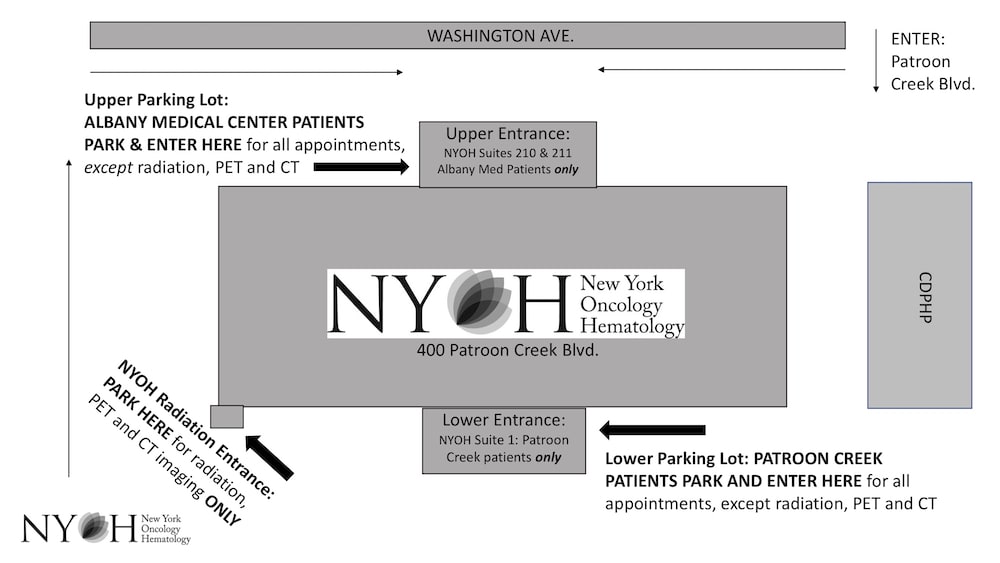 Patroon Creek: NYOH is pleased to announce our renovated Patroon Creek office is now open for all patient appointments. Patients who are normally seen in our Patroon Creek office should return to parking in the lower lot, in the back of the building and use the office's main entrance.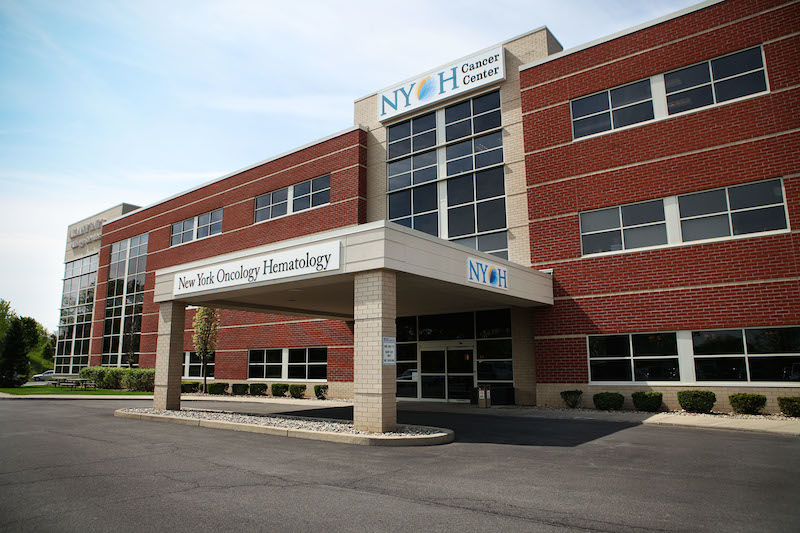 This includes patients seeing:
Nischala Ammannagari, MD
Joseph Dudek, MD
Lawrence Garbo, MD
John Phelan, MD
Karen Tedesco, MD
Maria Theodoulou, MD
Mohamad Younes, MD
Qin Zen, MD, PhD
Randi Daniels, NP
Amanda DiPierro, NP
Carrie Kreitner, NP
Colleen Murray, NP
Albany Medical Center: Patients from our Albany Medical Center office will continue to be seen at our Patroon Creek location and will *not* change locations. Check-in for all appointments will be in Suite 210. Patients should park in the upper lot, using the upper entrance for all appointments.
This includes patients seeing:
Courtney Bellomo, MD
Pooja Chaukiyal, MD
Makenzi Evangelist, MD
M. Azam Hussain, MD
Madhavi Kambam, MD
Ami Negandhi, MD
Rahul Ravilla, MD
Mihir Raval, MD
David Shaffer, MD, PhD
Susan Weaver, MD
Stephen Wrzesinski, MD, PhD
Ira Zackon, MD
Nicole Cangemi-Mellor, NP
Maeve Dargush, NP
Gloria Kwizera, PA
Cristin O'Neal, NP
Radiation and Imaging: All Patroon Creek radiation, PET and CT imaging patients will continue to park in the lower lot and use the separate radiation entrance for those appointments.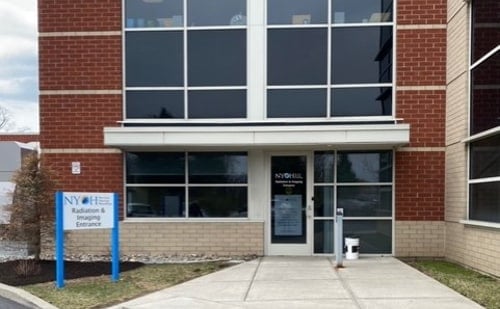 This includes patients seeing:
Tia Olds, MD
Todd Doyle, MD
Troy: In addition, the Troy location at 258 Hoosick Street has also re-opened.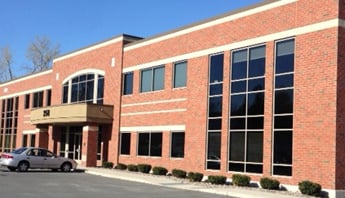 This includes patients seeing:
John Phelan, MD
Regina Resta, MD
Erin Lasher, NP
Please note: As a safety precaution for patients and our team, all COVID-19 rules remain in effect. This means no visitors are permitted to accompany patients to appointments, imaging or treatments. All patients must continue wearing a mask at all times.
Patients with any symptoms of the coronavirus, including fever, cough or difficulty breathing, those under quarantine, or who have recently traveled to states with high infection rates, please call our office BEFORE your appointment for instructions.