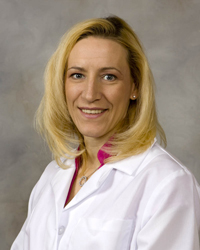 Karen Tedesco, MD, was a featured speaker on Hereditary Breast Cancer Syndrome at the recent "Beat the Odds" event, sponsored by To Life!, a breast cancer support and education organization.
Dr. Tedesco is a medical oncologist and hematologist and director of New York Oncology Hematology's Hereditary Risk Assessment Program. She is also principal investigator for clinical research trials involving breast cancer at NYOH.
Her talk, "Is Cancer in Your Genes?" focused on risk factors, genetic testing and management of high risk breast cancer patients.

"We were delighted to have someone with Dr. Tedesco's breadth of experience in the field of heredity cancers," said Eileen Bird, President, To Life! "With so many individuals and families affected by a cancer diagnosis, there is a great deal of misinformation out there and perhaps some fear. Dr. Tedesco's presentation took a complex subject and highlighted key elements for a general audience. The feedback from attendees was overwhelmingly positive."
While "Beat the Odds" was launched 15 years ago for breast cancer survivors, Bird says the event increasingly attracts nurses, physicians and others medical professionals.
In addition to her roles at NYOH, Dr. Tedesco also holds national positions, serving as a member of US Oncology's Breast Cancer Research Committee and Genetic Risk Evaluation and Testing Steering Committee. She currently sees patients at NYOH's Amsterdam and Albany/Patroon Creek locations.
Learn more about upcoming To Life! events, including: