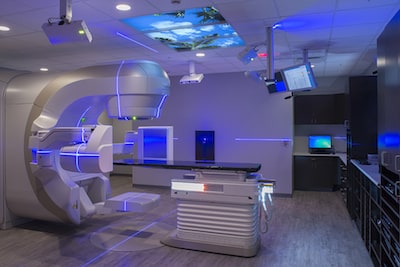 New York Oncology Hematology's new radiotherapy system, the Varian TrueBeam, is the focus of a recent Time Warner Cable News story.
Located at our new Clifton Park Cancer Center in Saratoga County, is offers the latest in radiation treatment, reducing side effects and treatment time for patients.
Dr. Justin Juliano, Radiation Oncologist at NYOH, discusses how the TrueBeam is able to reach hard to treat cancers with its "Perfect Pitch" couch, which has the ability to move in six degrees. The TrueBeam is also able to deliver higher doses of radiation, to more effectively treat many tumors.
The story also includes an interview with NYOH breast cancer patient Diane O'Connor, who shares her experience learning about her cancer diagnosis and going through treatment with the TrueBeam. O'Connor, a nurse, requested to have her treatment at NYOH/Clifton Park because of the new technology and its convenience to her work and home.