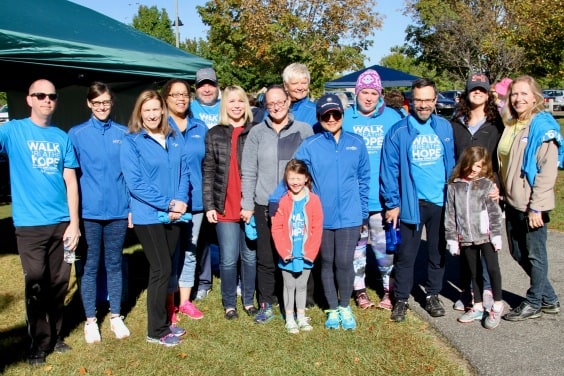 Once again, New York Oncology Hematology will be joining Lungevity for the 2018 Breathe Deep 5K Run/Walk at The Crossings in Colonie. Proceeds from the event fund research, education and support for those battling lung cancer.
Arsyl De Jesus, MD, a radiation oncologist at NYOH, is a featured speaker this year. We are proud to sponsor this growing event, which was launched by Jennifer Barnhart, the spouse of one of our patients. Jennifer explains that she wanted to create an event for other people, just like herself, who have been affected by lung cancer to come together to raise money for research. So that one day, she can say that she helped cure lung cancer! The race course accommodates strollers, wheelchairs, and bicycles, as well as pets (but please pick up after them!) – so bring family and friends to enjoy a beautiful autumn morning for a good cause.
Lung cancer continues to be the leading cause of cancer death. According to the American Cancer Society, each year, more people die of lung cancer than of colon, breast and prostate cancer combined.
Please join our NYOH Cares team – in person or through a financial donations: https://lungevity.donordrive.com/index.cfm?fuseaction=donorDrive.participant&participantID=47559
Event Details:
Where: The Crossings, 580 Albany Shaker Rd. Loudonville, NY 12211
Schedule:
8:30 am: Check-in/registration
9:30 am: Program
10:00 am: Walk/Fun Run begins
Immediately after walk: Closing Ceremony
All morning: DJ • Snacks • Raffle • Silent Auction • Fun for all ages!
Thank you for your support!