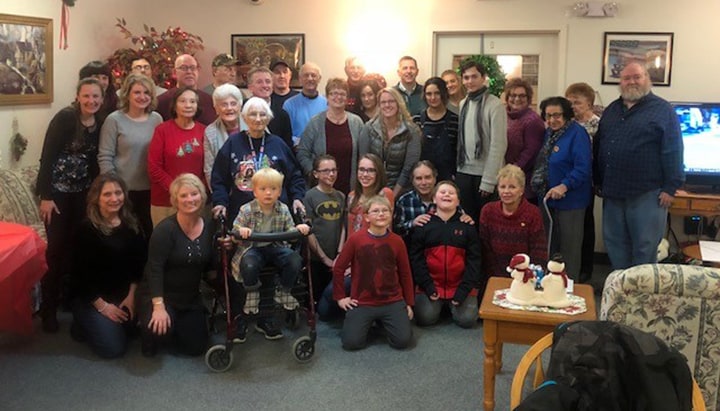 June Baesen of Schenectady is a breast cancer survivor and a longtime patient at NYOH's Rexford office. When she recently celebrated her 90th birthday, rather than gifts, her friends and family made donations to the NYOH Community Cancer Foundation, to help local cancer patients during treatment.
---
Below, June's daughter, Terri Sutton shares the story in her own words: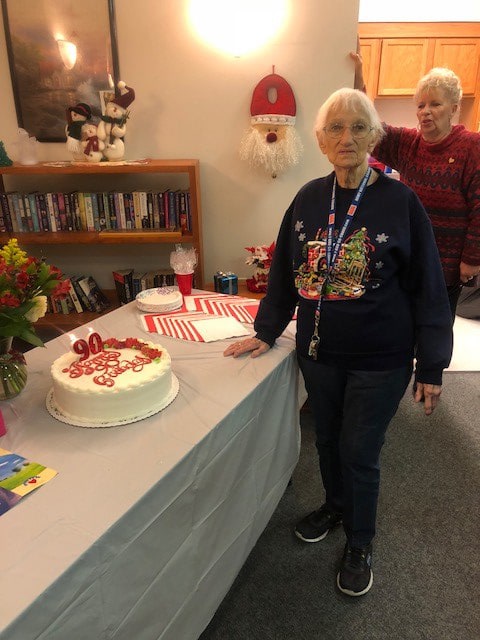 "At an appointment with mom, I mentioned to the receptionist we were planning a party for mom's 90th birthday and thinking about doing donations to a national cancer charity, instead of patients. She explained that NYOH has its own foundation. All donations would stay local, to help patients pay for groceries, gas and other expenses during their treatment. She gave me pamphlet to take home.
We all thought it was a great idea to support NYOH, since mom is being treated there. When we told mom about the party, she said she didn't want presents. So, I showed her the pamphlet from the NYOH Community Cancer Foundation and we talked about requesting donations and keeping that money local. She loved the idea.
On the day of her party, we had about 30 family and friends attending. We set up a table with her cake and next to it, was a box for donations. It was wrapped in pink paper with the pink ribbon symbol for breast cancer survivors.
What a great feeling to give back to the place that's treating you! There's a real community feel to it. You may just be helping the person sitting next to you in the waiting room.
Our family would highly recommend doing donations for any party. Sadly, everyone knows someone battling some form of cancer. It was such a fun and easy thing to do - and what a great feeling knowing you are making a difference!"
---
About the NYOH Community Cancer Foundation
Cancer treatment can take a toll – not just on the body, but on a family's bottom line. NYOH is deeply grateful to families and patients like June, who understand that it is the little things, like groceries and gas cards, that go a long way to help patients during cancer treatment.
That is why the NYOH Community Cancer Foundation was create, by patients, physicians and staff of New York Oncology Hematology. An independent, 501(c)3, we have been providing financial support to local patients during cancer treatment since 2000.
From birthday parties to golf tournaments, school fundraisers to individual gifts, 100% of all funds go directly to patients in need, here in our region.
Read more about the NYOH Community Cancer Foundation.
NYOH Community Cancer Foundation
449 Route 146, Suite
101 Clifton Park, NY 12065
(518) 373-3800
You can also make a secure, online donation at: www.newyorkoncology.com/nccf