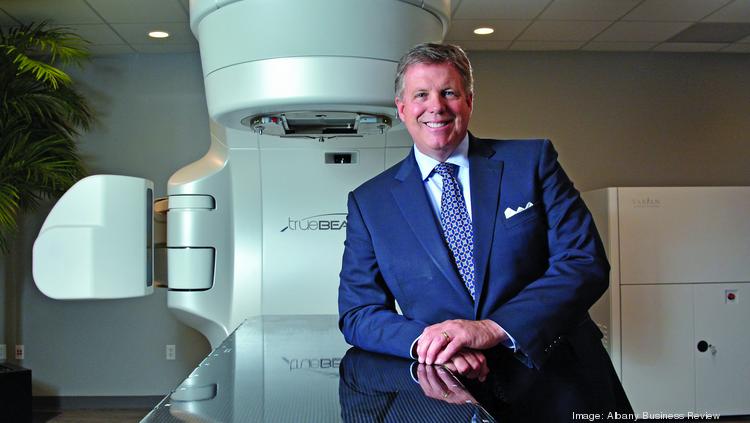 Image: Albany Business Review, DONNA ABBOTT-VLAHOS
In addition to stories about Ray Charles, performing on stage and writing the music for NYOH's television commercials, Edwin Graham, Executive Director of NYOH, also talks about his connection with cancer and the future of the practice.
---
Read article text:

10 minutes with Edwin Graham of NY Oncology Hematology
Edwin Graham's career has seen upheaval in health care industry
"Sometimes, things take their own path if you recognize you can't control everything," says Edwin Graham, executive director, New York Oncology Hematology.
Edwin Graham's primary passion is music — but he has also had a knack for seeing health care organizations through periods of change and upheaval. Sometimes, like when he led the merger of an Albany cancer nonprofit into the American Cancer Society, he instigated the change.
As the administrative leader for the region's biggest provider of cancer care, New York Oncology Hematology, Graham has overseen big investments in the organization.
How did you end up working in health care? My dad passed away when I was very young, and through that, the church community really embraced my family. There was a priest who helped me do some aptitude testing to see what would line up with my interests and abilities. I'd always been involved with running things and I scored off-the-charts on health care administration.
When you look back on your career, what stands out? I think I was at the right place and right time when change was occurring. Part of what I am is a change agent, from when I was 25 and the chief operating officer of a hospital that was transitioning into becoming a specialty ambulatory surgery hospital, to joining with the Center for the Disabled by merging in the group I was the director of.
Was the merger of Gilda's Club with the American Cancer Society difficult and was there concern about the loss of this local entity? There definitely was worry. Candidly, I was the architect of that transition. We were at the point where we weren't big enough to continue to support ourselves financially, but we were going through the roof in terms of patient interest. I worked myself out of a job, but I would do it all over again because it was the right thing.
What happened after that transition? There's a book ("Dancehall," a murder mystery), I've wanted to make into a movie. Ray Charles said he'd help me out in the mid-90s, but the rights had been sold and it just never went anywhere. So I figured it wasn't supposed to happen. Then years later one of the folks I'd gotten close with through Gilda's was over and he said, "Why don't you think about going for it again?" I said, "I'm almost 50, I've got a kid about to go to college, I don't think this is the time for Dad to go make a movie." He talked of his first wife, who passed of cancer, and said, "If you're game, I'm game." It coincided with being able to bring a new future for Gilda's — to try something that hasn't completely worked out. If you want to try something, if there's an opportunity, pursue it.
How did working at NYOH come about? I was talking with Nini Wu, NYOH president, about a friend and his wife who were diagnosed with cancer. I saw they (NYOH) were looking for a director. Sometimes, things take their own path if you recognize you can't control everything. It wasn't long after I came here that one of my sisters became sick, so I went through that as a family member. I realized there's something I can take from that experience to try to make sure we're doing everything we can here.
You're a member of the Screen Actors Guild. Well, I started singing in church. I'm probably a singer who can act and dance a little. When I was 29 and chief operating officer at Child's Hospital, the question was did I want to be considered for the CEO role. I said no. The new guy made a change, so I found myself out of work. I started doing musicals, and that led to being a stand-in for one of the stars during filming in Saratoga.
How have you tried to balance those interests with work? I'd say music is the thing that's probably most central to me. I miss being on stage. I did write the music for one of our commercials that we did here. That was kind of fun. Now, I just vicariously live through my kids and their music.
What do you feel you've accomplished here? What I feel so humbled by is how the physicians who own the practice have worked with me to figure out how to position this practice as the leader of cancer care. In the past three years, we've brought 10 more doctors into the practice, all at the top of their game. We've invested, in the past three years, about $40 million. We updated all of our leases, expanded our clinical research program — and this is all because of the people I work with whose work is bigger than them.
What does the future hold? Do you see the practice needing to continue its expansion? Cancer care is very expensive. We're trying to manage the cost of care for patients and the system more efficiently. We believe we're able to do that in part because of our size and our scope. I think we're going to see a continued transformation of cancer care. A practice that has one or two or three or four physicians is going to have an awful hard time being able to stay ahead of all that. So the more we can find ways to not recreate resources, but find ways to work together, the better.
---
Edwin Graham
Title: Executive director
Company: New York Oncology Hematology
Age: 55
Family: Wife, Laura; daughter, Megan, 22; sons, Conor, 17, and Aiden, 13
Grew up: Albany
Resides: Niskayuna
Education: State University of New York Institute of Technology, Bachelor of Professional Studies in health service administration, 1983
On the resume: Chief operating officer of The Child's Hospital, now part of Albany Medical Center, 1986-1989; vice president at Kaiser Permanente during transition of HMOs to private practices, 1995-2010; president and CEO of Gilda's Club Capital Region, 2007-2010
Marie J. French
Reporter
Albany Business Review